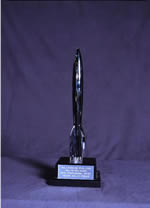 Presented at: The Millennium Philcon, Philadelphia, Pennsylvania, August 30 – September 3, 2001
Toastmaster: Esther Friesner
Base design: Rick Katze, Bridget Boyle, Lew Wolkoff
Awards Administration: Saul Jaffe, Rick Katze
The 1951 Retro Hugo Awards were presented at a ceremony on Friday, August 31, 2001 at The Millennium Philcon, the 59th World Science Fiction Convention.
There were 130 total nominating ballots of which 48 were submitted online. One ballot was invalidated. There were 886 total final ballots of which 157 were submitted online. 24 ballots were invalidated.
Full Nominating and Final Ballot Voting Details
Per WSFS rules, categories in which there were insufficient nominations to justify the category were dropped.
The John W. Campbell Award for Best New Writer and the Award for Best Young Adult Book are not Hugo Awards and therefore there are no Retrospective versions of these awards.
Best Novel
Farmer in the Sky by Robert A. Heinlein [Boy's Life Aug,Sep,Oct,Nov 1950; Scribner's, 1950]
Pebble in the Sky by Isaac Asimov [Doubleday, 1950]
The Lion, the Witch and the Wardrobe by C. S. Lewis [Geoffrey Bles, 1950]
First Lensman by Edward E. Smith [Fantasy Press, 1950]
The Dying Earth by Jack Vance [Hillman, 1950]
Best Novella
"The Man Who Sold the Moon" by Robert A. Heinlein [The Man Who Sold the Moon, 1950]
"The Dreaming Jewels" (alt: "Synthetic Man") by Theodore Sturgeon [Fantastic Adventures Feb 1950]
"…And Now You Don't" by Isaac Asimov [Astounding Nov,Dec 1949,Jan 1950]
"The Last Enemy" by H. Beam Piper [Astounding Aug 1950]
"To the Stars" by L. Ron Hubbard [Astounding Feb,Mar 1950]
Best Novelette
"The Little Black Bag" by C. M. Kornbluth [Astounding Jul 1950]
"Scanners Live in Vain" by Cordwainer Smith [Fantasy Book #6, 1950]
"The Helping Hand" by Poul Anderson [Astounding May 1950]
"Okie" by James Blish [Astounding Apr 1950]
"Dear Devil" by Eric Frank Russell [Other Worlds May 1950]
Best Short Story
"To Serve Man" by Damon Knight [Galaxy Nov 1950]
"Coming Attraction" by Fritz Leiber [Galaxy Nov 1950]
"Born of Man and Woman" by Richard Matheson [F&SF Sum 1950]
"A Subway Named Mobius" by A. J. Deutsch [Astounding Dec 1950]
"The Gnurrs Come from the Voodvork Out" by Reginald Bretnor [F&SF Win/Spr 1950]
Best Related Book
Insufficient Nominations – Not on the ballot
Best Dramatic Presentation
Destination Moon (1950) [George Pal Productions] Directed by Irving Pichel; Screenplay by Alford Van Ronkel and Robert A. Heinlein and James O'Hanlon; based on the novel Rocketship Galileo by Robert A. Heinlein
Harvey (1950) [Universal] Directed by Henry Koster; Screenplay by Mary Chase, Oscar Brodney and Myles Connolly; based on the play by Mary Chase
Cinderella (1950) [Disney] Directed by Clyde Geronimi, Wilfred Jackson and Hamilton Luske; Written by Ken Anderson, Homer Brightman, Winston Hibler, Bill Peet, Erdman Penner, Harry Reeves, Joe Rinaldi and Ted Sears; based on the story "Cendrillon" by Charles Perrault
Rabbit of Seville (1950) [Warner Brothers] Directed by Chuck Jones; Story by Michael Maltese
Rocketship X-M (1950) [Lippert Pictures] Directed by Kurt Neumann; Written by Kurt Neumann, Dalton Trumbo and Orville H. Hampton
Best Professional Editor
John W. Campbell, Jr. (Astounding Science Fiction)
Anthony Boucher
H. L. Gold
Groff Conklin
J. Francis McComas
Best Professional Artist
Kelly Freas
Chesley Bonestell
Virgil Finlay
Edd Cartier
Hannes Bok
Best Semi-Prozine
Insufficient Nominations – Not on the ballot
Best Fanzine
Science Fiction Newsletter ed. by Bob Tucker (aka: Wilson Tucker)
Slant ed. by Walter Willis and art editor James White
Quandry ed. by Lee Hoffman
Sky Hook ed. by Redd Boggs
Spacewarp ed. by Art Rapp
The Fanscient ed. by Donald B. Day
Best Fan Writer
Robert Silverberg
Bob Tucker (aka: Wilson Tucker)
James White
Walter A. Willis
Lee Hoffman
Best Fan Artist
Jack Gaughan
Bill Rotsler (aka: William Rotsler)
James White
Lee Hoffman
Ray Nelson
The World Science Fiction Society Constitution allows, but does not require, a Worldcon held 50, 75, or 100 years after a Worldcon at which no Hugo Awards were presented to present Retrospective Hugo Awards for works that would have been eligible for that year's Hugo Awards if they had been held. (Once Retro Hugos have been presented for a given year, no future Worldcon may present Retro Hugos for that year.) The 1951 Worldcon did not present Hugo Awards. The Millennium Philcon elected to present Retro Hugo Awards for works first published in 1950 that would have been eligible for the 1951 Hugo Awards, had there been Awards presented in 1951.